On Thursday, Apple launched its 16.6.1 update to enhance security features. As per its official site, the tech giant claimed that the latest iOS update effectively patches the two issues previously raised. Apple has recommended that users should update their iPhones as soon as possible.
This development has come after users discovered spyware named Pegasus installed on iPhones as well as iPads. It's pertinent to mention that Pegasus is a highly controversial application developed by an Israeli-backed company. The gravity of this issue was first highlighted when researchers at Citizen Lab discovered this spyware on the iPhone of a civil society organization employee. The experts at the lab termed this problem a zero-day, zero-click exploit that needed to be addressed immediately.
Another major issue that this update aims to address is the famous one affecting Apple Wallet. This wallet is very popular among iPhone users, storing security-security information. Apple Wallet consists of financial transactions and also contains credit and debit card information. While Apple declined to reveal the actual issue, the latest update has reportedly patched the vulnerability.
With the exponentially increasing popularity of smartphones – especially iPhones – cyberattacks are also becoming more prevalent, taking advantage of any potential vulnerabilities. Apple is confident that after the latest update, any major concerns related to the security of iPhones will be alleviated, gaining further trust among the loyal iPhone users community.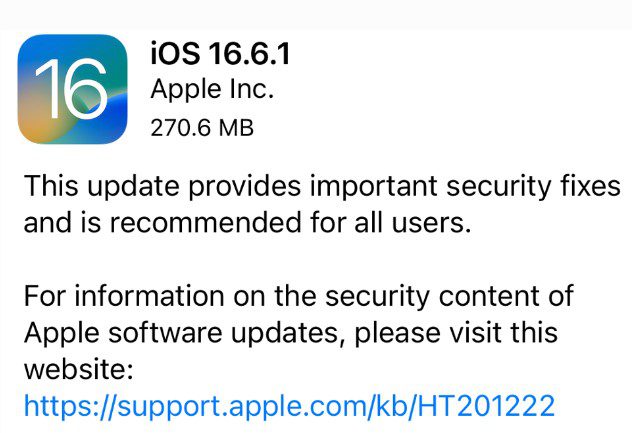 How to Install the Update?
Open Settings on your iPhone
Select the "General" option
Now go to the "Software Update" tab
Software Update option should be available at this point
If the update option is not visible, try restarting your device
Tap on "Software Update" to update to the latest version of iPhone
Make sure not to turn off your phone during the update
How to Check the iPhone Version?
Go to the General page
Tap the "About" option
Here, you will find either the update 16.6.1 or 16.6.0 installed
If your device is still using the version 16.6.0, update it immediately