Microsoft-backed company OpenAI is set to launch the Android application of the viral chatbot ChatGPT next week. This news comes on the back of the iOS version of the ChatGPT application gaining massive success, amassing more than half a million downloads in the first week of its release. It is pertinent to mention that ChatGPT's iOS application was released in May.
Even though no specific date has been mentioned, OpenAI did reveal that they will unveil the much-awaited Android version next week. The official announcement was made via a tweet, which also contained a link to a pre-order website allowing users to sign up for the application before it is publicly launched.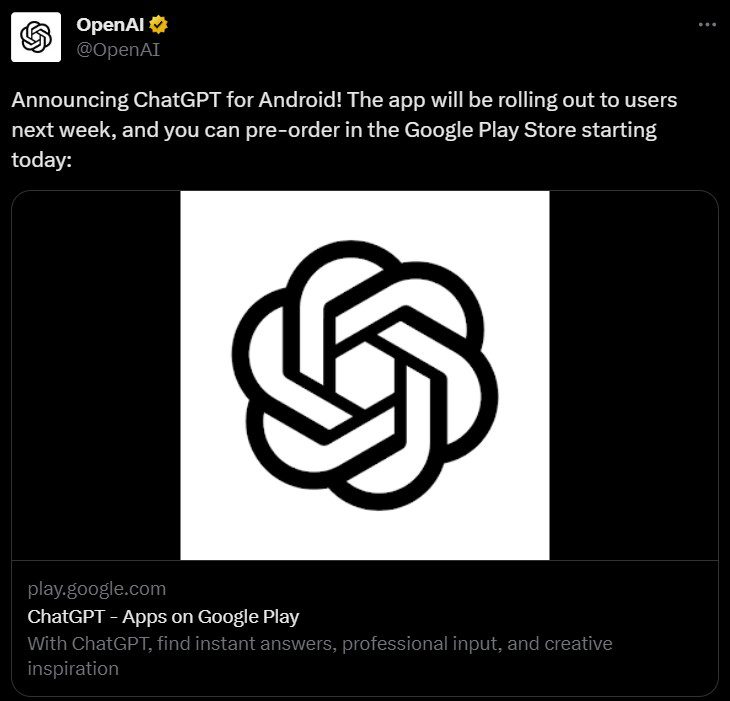 Inundation of Fake ChatGPT Apps
One of the main reasons behind releasing the Android version of the AI-powered chatbot is to control the spread of fake ChatGPT applications on the Google Play Store. Such counterfeit applications have caused serious security concerns, with their data collection process the topic of debate among experts.
With the countdown for the Android application of ChatGPT now starting, Android Users are eagerly waiting for the launch of the application. Many users welcomed this news, given that now they can access ChatGPT via the Android app instead of a browser.
Unprecedented Popularity of ChatGPT
Since OpenAI publicly unveiled ChatGPT, this AI-powered chatbot has set the internet on fire, revolutionizing the field of Artificial Intelligence. Breaking all previous records, this tool attracted an unprecedented number of users in the first month of its release.
ChatGPT reached the milestone of 100 million users in the first couple of months. Soon, OpenAI released the advanced versions of ChatGPT named GPT 3.5 and GPT 4.0, although the latter is only accessible to paying users.
The remarkable success story of ChatGPT has even prompted other tech giants to release their own AI chatbots. Microsoft's Bing and Google Bard are the two most famous ChatGPT rivals, while Chinese ecommerce giant Alibaba also launched its ChatGPT competitor.