In the modern era, smartphones have gained unprecedented popularity. According to a report by statista.com, there are approximately 5 billion smartphone users worldwide. This figure is expected to reach 6 billion by the year 2028.
This is the reason why more and more businesses are focusing on high-quality applications. Applications can be divided into two main categories: native apps and responsive apps. Any business that doesn't rely on native or response apps will lag behind its competitors. But the question is, should businesses opt for responsive web apps or native mobile applications?
To answer this critical question, it's essential to differentiate these two and discuss their pros and cons.
Responsive Web vs. Native App Comparison in 2023
If you are confused about responsive web application or native for mobile app development, fret not. Here is the comprehensive comparison between responsive web apps vs native apps in 2023:
Native Apps
Applications that are developed for a particular operating system are called native apps. Native is mainly used for mobile app development purposes and ca be used for building business applications for mobile devices as well. Such applications can be downloaded from Google Play Store (android version) and Apple App Store (iOS version). As compared to hybrid and web apps, native apps utilize core functionalities of a device like camera, location, accelerometer, and vibration. Ahead, examples of Native applications along with advantages and disadvantages.
Examples of Native Apps
WhatsApp
Spotify
Tesla
Pokemon Go
Pros of Native Apps
Offline Accessibility: Once the app is downloaded and installed on the smartphone, the internet is not required to run the app smoothly. Unless there is another additional functionality required to be added, you can use the native app in offline mode.
Enhanced Aspect Ratio: Aspect ratio is defined as the ratio between width and height. Native apps generally have better orientation and optimized aspect ratio as compared to web apps.
Better User Experience: It is a well-documented fact that native applications provide a much better user experience since the target audience and the operating system on which the application will run are known in advance.
Cons of Native Apps
Expensive: Native apps are not budget-friendly at all, as two different sets of developers and two different codebases are required to develop applications in order to target iOS and Android users.
Longer Development Time: As compared to hybrid and web apps, native apps have a more complex structure, and longer time duration is required for a fully functional native app.
Difficult Maintenance Procedure: Since two separate codebases are involved in developing Android and iOS versions of native apps, maintenance of such applications is way more complicated.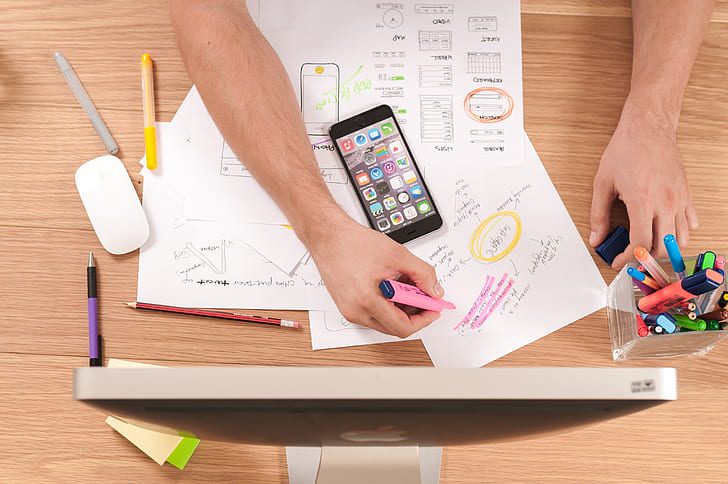 Responsive Web Apps
Responsive website applications are built on the core principle of responsive web design. Responsive design means the web page automatically adjusts according to the device's screen size. For different devices like tablets, and smartphones, the web page's design changes as per the orientation and size of the device. This means that with the help of responsiveness, you can create a single web app for more than one device.
Examples of Web Apps
Gmail
Facebook
Microsoft Office 365
Netflix
Pros of Responsive Web Apps
Cost-effective: Unlike native apps, which require multiple codebases for iOS and Android versions, you can create a single version of a responsive web application for different platforms. This means that the resulting application is not only budget-friendly but requires much less development time.
Simpler Marketing: You can promote and market your web apps for users of multiple devices with ease.
Quick Updates: Imagine your app runs into an issue after deployment. If the app is natively built, you will have to update two separate versions on Google Play Store and Apple App Store. On the contrary, one can resolve issues and update responsive web apps rapidly and much more easily.
Cons of Responsive Web Apps
Necessary Internet Connection: Web apps cannot operate offline, since they work like any other websites and need an Internet connection to pull information.
Lack of Specific Functionality: Since responsive apps are not built for a specific platform or device, they have limited support for device-specific functionalities like camera, GPS, etc.
You Might Be Interested in Reading: Native vs. Cross-Platform Development: Which One is Better?
Mobile App vs Responsive Website Application: Final Verdict
There is no clear winner in the debate of choosing either mobile app or a responsive website. Both types of applications have their own pros and cons including providing awesome offline user experience, and the selection of a specific category depends on the type of project and the requirements of the client.
If your budget is sufficient and you need to access device-specific features, go for native app development. On the other hand, if the client is demanding quick project delivery in a limited time period, you should develop a responsive web app.