Databases are an integral part of software development as they are necessary for collecting, storing, and retrieving a large amount of data. A well-structured database plays a crucial role in ensuring the accessibility of accurate, reliable, and speedy transfer of data to the users. The selection of a suitable database library is of paramount importance for the effective configuration and management of a database.
Regarded as one of the most widely used languages, Python boasts a host of libraries to simplify the process of dealing with databases, making the lives of developers easier. By leveraging Python libraries, one can easily connect to the database and even SQL queries on the go.
Now, let's extend this debate by exploring some of the best Python libraries for database management.
Relational vs Non-Relational Databases
Before moving on to learning about database management libraries for python, it is important to know about different types of databases. There are two major types of databases: Relational databases and non-relational databases.
Relational Databases
Relational databases like MySQL, PostgreSQL, and Oracle Database use the relational data model organized in tables with defined schema and relations between tables. Here, data is structured, and consistency is maintained through features like ACID transactions. SQL is used to manipulate and query relational data.
Non-Relational Databases
On the contrary, non-relational databases like MongoDB, Cassandra, and Redis are more flexible schemas without enforcing strict table relations. Data models can include documents, key-value pairs, graphs, etc. In such databases, joins and complex relations are avoided. Moreover, scaling horizontally is easier with non-relational systems than with relational database management systems.
Key Differences Between Relational vs Non-Relational Databases
To further differentiate between relational and non-relational databases, let's discuss the key factors that are specific to them:
1) Schema
Relational databases have a predefined schema that enforces data integrity through features like data types, primary keys, foreign keys, and other constraints. On the other hand, non-relational databases use a more flexible, schema-less approach where data structure can evolve dynamically.
2) Scalability
Non-relational databases typically scale out easier across inexpensive distributed commodity servers or cloud resources, enabling massive horizontal scalability. Meanwhile, relational databases scale more vertically on high-end servers but can face limits in horizontal scalability.
3) Structure
The relational model imposes structure on data through table relations, primary/foreign key constraints, and data types, which facilitate data integrity. When it comes to non-relational models, they are more flexible and schema-less, not imposing relationships and allowing unstructured or semi-structured data.
4) Data Models
Relational databases are based on a tabular data model organized in rows and columns. Non-relational databases can use various data models like documents, key-value pairs, wide-column models, and graph structures based on use cases.
5) Agility
Schema changes in relational databases can often involve cumbersome table alteration tasks like adding new columns or changing data types. Non-relational schemas can evolve in an agile manner according to changing data needs.
5) Performance
Non-relational databases focus on maximizing availability and partition tolerance, which improves performance at a large scale. Relational databases give preference to strong consistency guarantees using ACID transactions, which impacts scalability.
10 Best Python Libraries for Relational and Non-Relational Databases
Python's popularity as a general-purpose programming language has grown exponentially due to its easy coding concepts, simplicity, readability, and vast ecosystem of libraries and frameworks. When it comes to database management, Python offers a plethora of libraries that streamline data access, manipulation, and analysis in both SQL and NoSQL databases.
If you are searching for the most useful Python libraries to smoothly connect with any database and help speed up the development process, you have come to the right place. Let's dig into the best Python libraries for both relational and non-relational databases:
1) SQLAlchemy
SQLAlchemy is an esteemed player in the realm of relational database management. Its Object-Relational Mapping (ORM) capabilities stand as a cornerstone, providing developers with a robust tool to effortlessly bridge the gap between code and relational databases.
What truly sets SQLAlchemy apart is its unparalleled flexibility, making it a go-to choice when working with diverse database systems. This adaptability empowers developers to craft high-performance applications that effortlessly span multiple database platforms.
Furthermore, SQLAlchemy simplifies intricate SQL operations, ensuring codebase maintainability and operational efficiency.
2) Psycopg2
Tailored specifically for PostgreSQL, Psycopg2 acts as a bridge between Python and this potent open-source relational database system. Its feature-rich toolkit includes connection pooling, support for asynchronous query execution, and efficient data handling.
Moreover, Psycopg2 proves invaluable for developers seeking to unlock PostgreSQL's full potential within their Python projects. Thanks to its easy integration, it enables applications to leverage the power of PostgreSQL's advanced features while maintaining optimal performance, making it one of the best libraries for SQL database management.
3) PyMySQL
A haven for MySQL enthusiasts, PyMySQL stands out as a pure Python library that enables interactions with MySQL databases, simplifying the development process. Its straightforward API simplifies MySQL integration, providing a smooth experience for developers.
This venerable library boasts features like transaction management and secure communication, making it a dependable choice for handling MySQL databases in Python-based projects.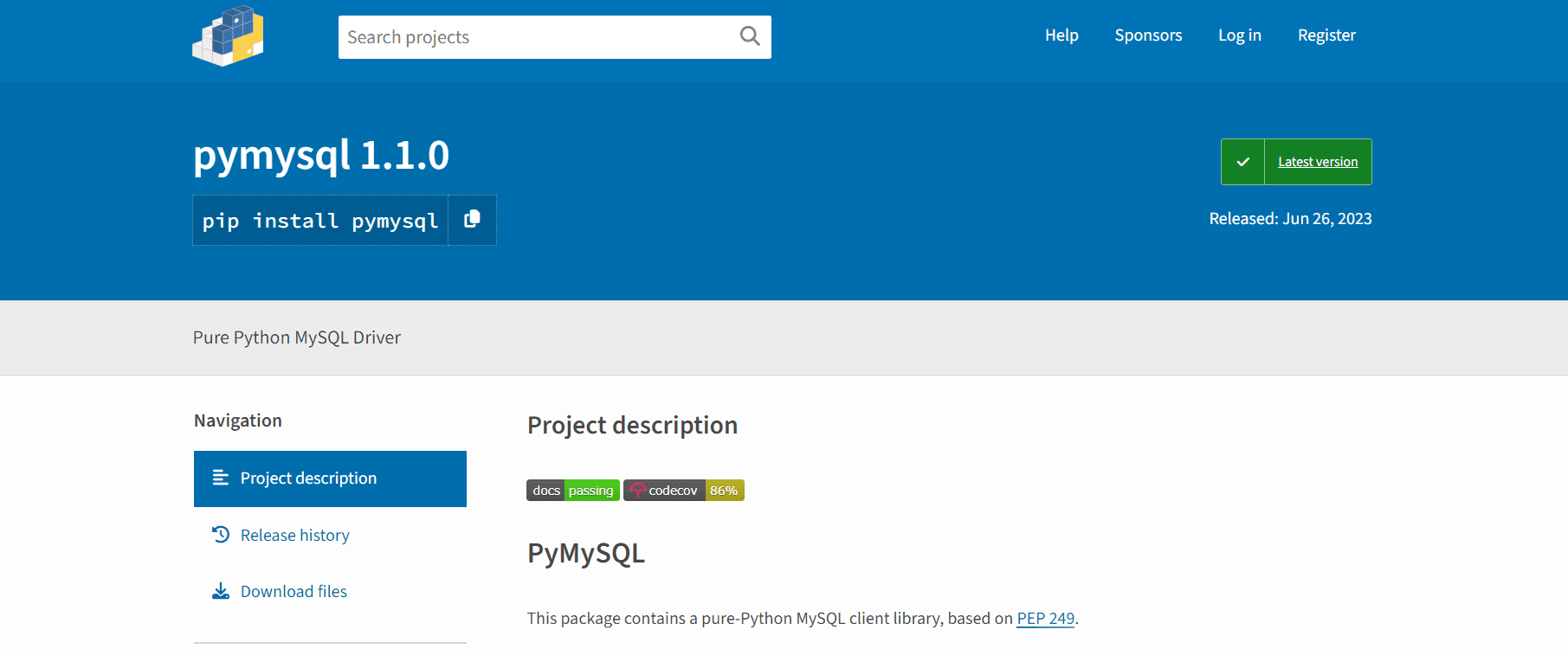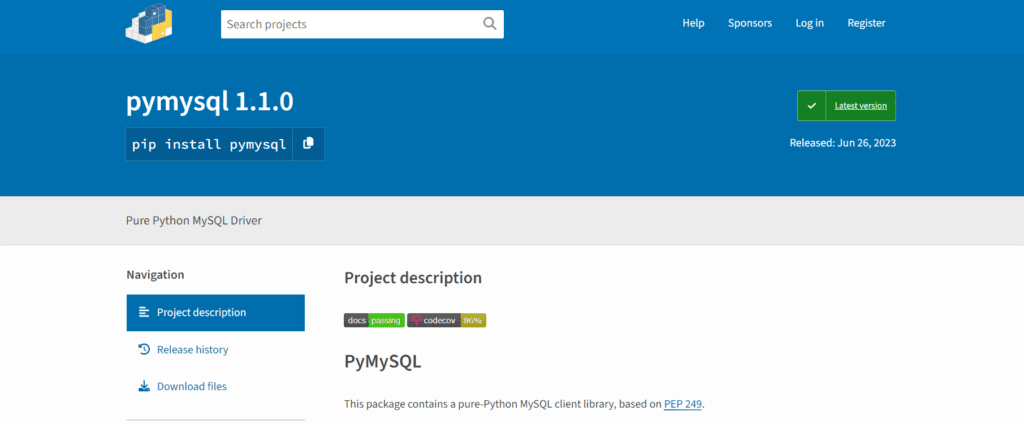 4) sqlite3
Python's standard library set proudly features sqlite3, which offers native support for SQLite databases. As a lightweight embedded database engine, SQLite is particularly useful in scenarios involving local storage and small-scale applications.
The elegance of sqlite3 lies in its simplicity, making it the preferred choice for developers looking to leverage the capabilities of SQLite smoothly within Python projects.
5) PyMongo
For NoSQL enthusiasts, PyMongo is highly rated as the ultimate library for interacting with MongoDB. It presents a Python-specific interface that facilitates facile interactions with MongoDB databases.
Moreover, PyMongo simplifies core operations such as CRUD (Create, Read, Update, Delete) actions, aggregation pipelines, and document manipulation. Its adaptability and performance make it the preferred choice for developers navigating the MongoDB landscape, making PyMongo one of the most esteemed Python libraries for non-relational databases.
6) Cassandra Driver
Tailored to cater to the unique needs of Apache Cassandra users, Cassandra-Driver emerges as a Python library that streamlines cluster connectivity, query execution, and data modeling. By offering straightforward integration of Cassandra into Python projects, this library simplifies the complexities of working with Cassandra's distributed NoSQL database.
7) Redis-Py
Serving as the vital link between Python and Redis, an in-memory data store celebrated for its lightning-fast performance, Redis-Py facilitates interactions with various Redis data structures like strings, lists, and sets.
This library proves invaluable in applications that demand rapid data caching, real-time analytics, and high-speed data processing, making it the preferred choice for connecting your Python-based application with the Redis database.
8) SQLObject
Renowned as another robust Object-Relational Mapping (ORM) library, SQLObject excels in simplifying database interactions, particularly in the realm of relational databases. It empowers developers to define database schema and execute operations through Python classes, rendering database management an elegant and Pythonic endeavor.
SQLObject extends its versatility by offering compatibility with various database backends, including MySQL, PostgreSQL, and SQLite.
9) Peewee
Peewee shines as a lightweight yet expressive ORM library designed to prioritize simplicity and ease of use. With an intuitive syntax and feature set, Peewee enables developers to define database models through Python classes, guaranteeing straightforward database management.
It boasts versatility and adaptability by supporting multiple database backends, including SQLite, MySQL, and PostgreSQL, making it suitable for Python-based applications with varying requirements.
10) SQLAlchemy-Continuum
Preferred for applications demanding historical data tracking and versioning within relational databases, SQLAlchemy-Continuum emerges as an extension of SQLAlchemy that augments these capabilities.
In scenarios where data changes necessitate meticulous logging, analysis, and traceability over time, SQLAlchemy-Continuum serves as an invaluable extension for SQLAlchemy. Its advanced features ensure transparency and accountability in data management, making it indispensable for such specialized use cases.
How to Choose a Python Database Library for your Project?
Selecting the optimal Python database management library is crucial for connecting your Python applications to the right database server and efficiently executing SQL queries and database operations. The library acts as the interface between your code and the database, handling connections, executing queries, and returning results.
Here are some of the key factors for Python developers to consider when choosing a library for database interactions:
1) Database Support
You must ensure the selected Python database library offers stringent support for connecting to and managing your specific database server technology. Compatibility with a range of databases like PostgreSQL, MySQL, MongoDB, and more is crucial. Libraries like SQLAlchemy excel in providing a unified interface for various database types, ensuring flexibility in database choices.
2) Maturity and Stability
Prioritize battle-tested Python database libraries that boast extensive real-world usage. These libraries tend to feature stable codebases with fewer gaps or bugs, backed by active and supportive communities. Psycopg2 and pymongo, for example, have established themselves as mature and widely adopted options, guaranteeing reliability and consistent performance.
3) Performance
Python database libraries vary in terms of performance factors such as connection pooling, network I/O speeds, and result parsing efficiency. It's advisable to benchmark these libraries based on your anticipated query and data loads. Psycopg2, renowned for its high-performance characteristics, is a top choice for PostgreSQL-driven projects.
4) Usability
Try to opt for a user-friendly library that offers Pythonic APIs and comprehensive documentation support. A library's ease of use simplifies database management within the Python ecosystem and reduces complexity in development tasks. SQLAlchemy, with its developer-friendly Object-Relational Mapping (ORM), stands out in terms of usability and flexibility.
5) Security
Cyberattacks are a serious concern in the process of interacting with databases containing sensitive information. Therefore, you must prioritize Python database libraries equipped with strong security features.
A list of these security measures should include query sanitization, SSL encryption support, role-based access control, and smooth integration with authentication mechanisms. PyMongo, for instance, offers advanced security features that ensure the protection of sensitive data in MongoDB-driven applications.
6) Reliability
Reliability is a crucial factor in this decision-making process.  You must evaluate the reliability of database interactions facilitated by the Python library. It's essential that these interactions consistently succeed, even when encountering faults or during peak load periods.
Hence, you must look for libraries that include self-healing capabilities, such as automatic reconnection following connection failures, to enhance system resilience and avoid loss of sensitive information.
7) Scalability
The size of databases can increase with time, and you must choose the library while keeping the scalability factor in mind. Assess the library's ability to scale database access effectively across multiple Python processes or threads. In short, scalability is particularly critical for large-scale applications and web frameworks like Django and Flask, where multiple concurrent connections are common.
8) Compatibility
Before choosing a particular library, you must verify its compatibility with your specific Python version, operating system, database drivers, and frameworks. Ensuring compatibility at this stage mitigates integration issues in the later stages of your project, ensuring a smooth development experience.
Conclusion
In today's day and age, integrating your Python-based software solution with a database is a common requirement for every developer. Selecting the most suitable library that can act as a bridge between the database – used for storing and retrieving data – and the application depends on a number of factors such as security, reliability, usability, and compatibility. This article shone a light on some of the best Python libraries for database management.