New year comes with a new hopes and expectations. It gives you new challenges to overcome in the coming year ahead. As 2021 was a bit hopefully then 2020 as of the vaccination had started and people had started travelling and things started lining up back to work. Ropstam decided to celebrate new year and appreciate of what we have and be thankful for it, as of new year brings new ambitions, aims, goals which are to be achieved for the betterment of oneself and company growth too.
Invitations
The invitations for the party were given out 10 days before the event which created a good impact on the employees that they are invited to a party, which had a schedule on it along with the details of the dress code and other activities.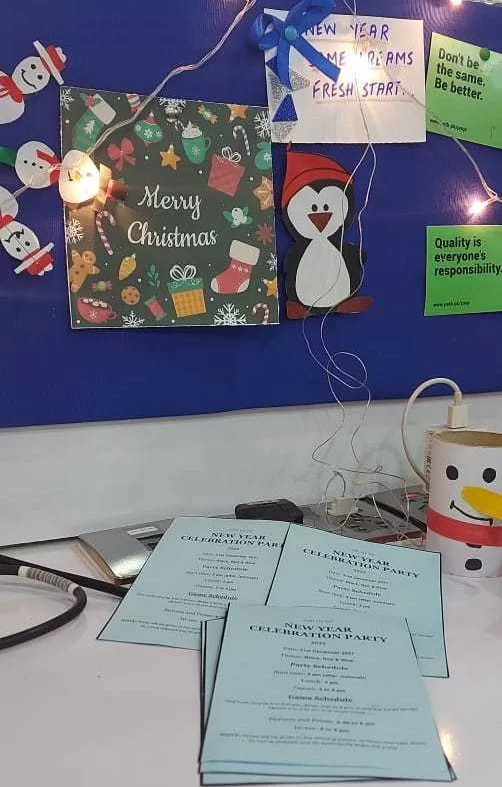 Starting the day of
The day started the usual way everyone worked till the first half of the day till 1pm and then started the final touches of the decor as of the complete decor along with the balloons was done a day before by the social media team. The entire Ropstam team was very excited for the new year celebration.
Our entire team made a new year video with all their New year Resolutions in it which turned out to be a very good video and was uploaded on all our platforms. Here's the link to it
Lunch
As it was Friday, so the lunch begins after Jummah Prayer. The lunch was arranged in the terrace, the management team managed the lunch perfectly. The all desi touch was amazing, and everyone loved it, most importantly everyone ate to their fullest. The menu had mutton karahi, chicken biryani along with raita salad and how can we forget dessert which was gajar ka halwa. The lunch hour was full of fun as everyone talked and enjoyed the lunch.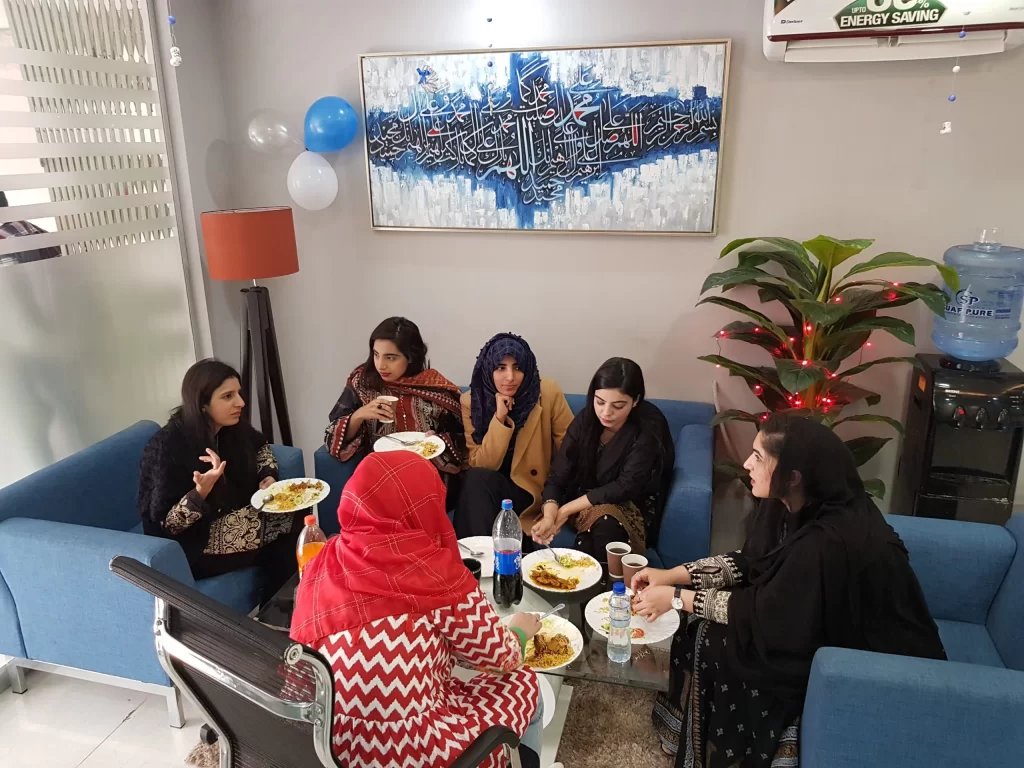 Game Time
The best fun part of any event is to engage everyone into different fun activities to enjoy and better get to know each other. There were a number of games including bingo, act it out, karaoke, musical chair, table tennis, ludo, play station etc. the winners were given a small goody box by the management team. Winning a game is not important enjoying it with your colleagues is the important part.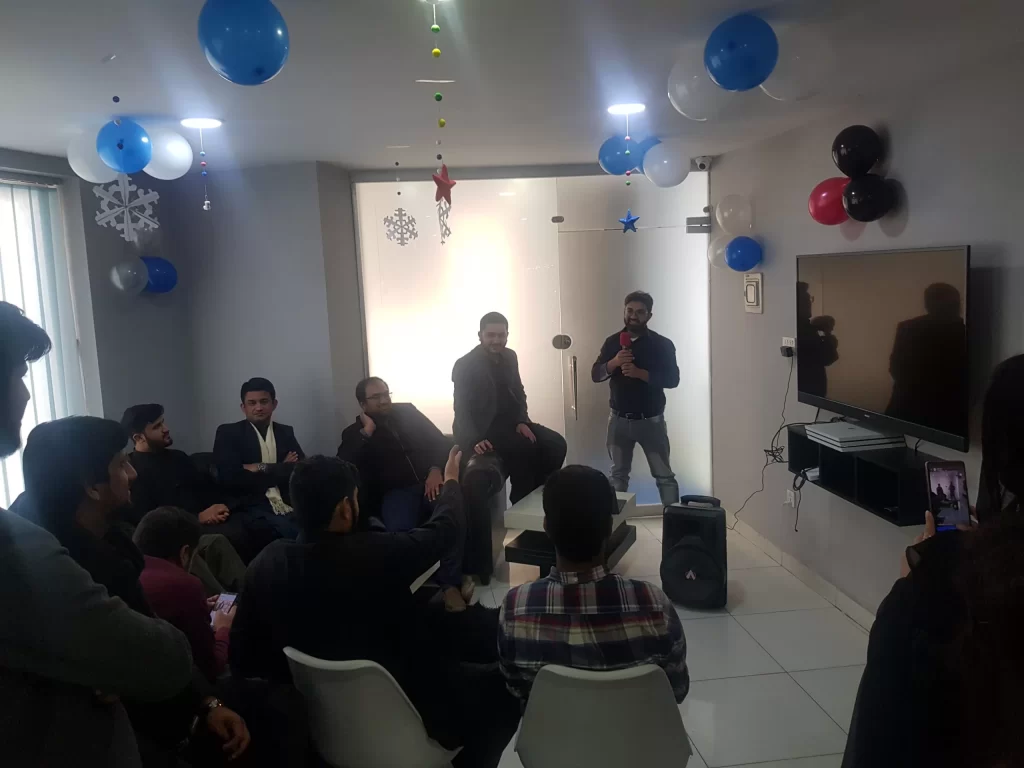 New Year's Cake
Any celebration is incomplete without a cake. The cake was an edible print which was designed according to our company theme by our designer. Two of our employees Atif Sattar (Team lead UI/UX designer) and Aman Ullah (office boy) had their birthdays in January so they were told to cut the cake. The cake was delicious and fresh.
Welcome box distribution
Our highly honorable CEO Sir Wali Hassan gave all the employees customized welcome boxes which had t shirt, cap, mug, bottle, usb, pen and a notepad with Ropstam name and logo on it. We were all very overwhelmed by the beautiful gift he gave us, it had 2 chocolates with a small new year card too in it. He also joined us through zoom and fully participated with us told us our past year achievements and discussed plans of the next year.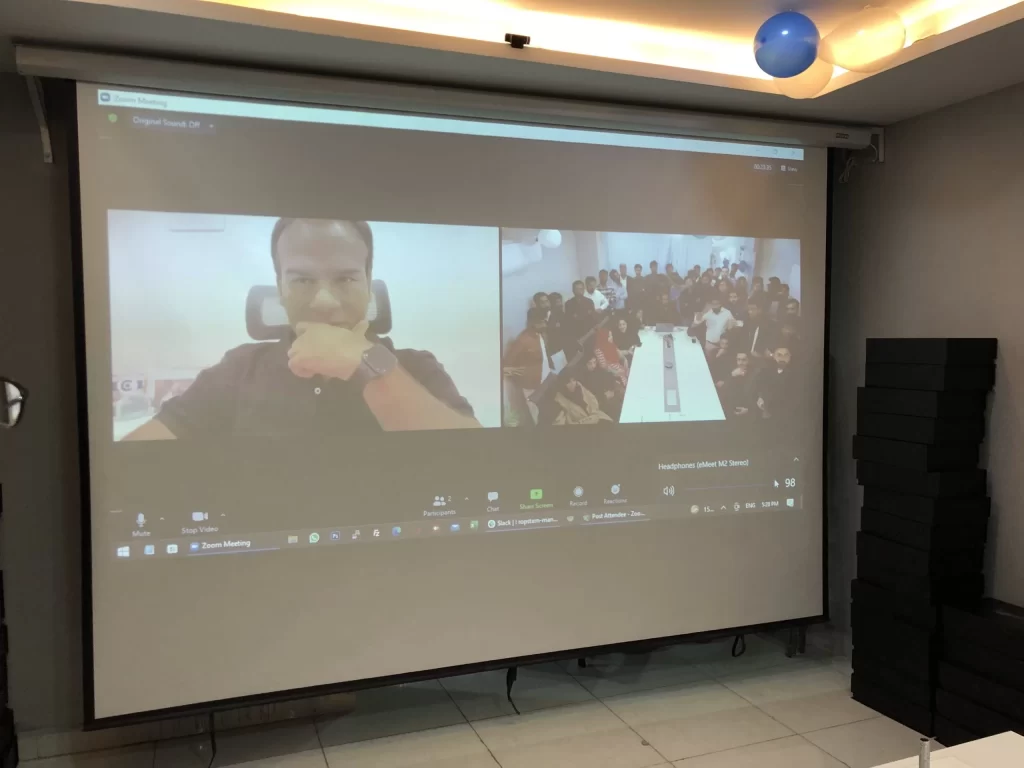 Hi tea
The day ended with Hi tea, which had tasty chicken samosa and biscuits. And how can we forget the cake. Everyone enjoyed and was refreshed by drinking warm tea and tasty hi tea.
End to an amazing celebration
In the end we made a small group video wishing Happy New Year from team Ropstam to everyone. It was a fun long day full of activities and excitement. Our company believes that its necessary to keep employees happy so they can work more effectively. We all should be thankful to the things we had in 2021 and pray for a happy better year ahead with more accomplishments.