Database schema migration is a necessary yet extremely sensitive and complex process. In the application development lifecycle, it is still the riskiest approach to be undertaken by naïve developers and experts alike. But thankfully, there are a host of open-source tools that make this process simpler and less risky.
In this article, I will shine a light on some of the best database schema migration tools to make the migration process easier and secure. Let's explore the top open-source migration tools that can help ensure data integrity and compliance!
Top 10 Database Schema Migration Tools For Developers
Just like moving house by shifting all the items from one place to another is a complicated, resource-intensive procedure, database migration also needs to be done carefully so that sensitive information is not lost.
Now that you are familiar with the concept of database migration let's dig into some of the most renowned schema migration tools that can be used by database engineers and data analysts:
1) Flyway
Flyway is a widely adopted database migration tool known for its simplicity and robustness. It supports SQL-based migrations, making it easy to define changes in SQL scripts. Flyway tracks which migrations have been applied, ensuring that the database schema is always up to date. It integrates seamlessly with popular build tools and frameworks, making it a top choice for Java-based projects.
2) Liquibase
A versatile database schema migration tool, Liquibase allows developers to define schema changes using XML, YAML, or SQL. It provides a platform-independent approach to managing migrations, making it suitable for diverse database environments. Liquibase offers features like rollbacks and branching, making it powerful for complex database evolution.
3) Alembic
Alembic is a database migration tool tailored for Python applications using SQLAlchemy. It simplifies the process of defining and applying database schema changes. Developers can create migration scripts in Python, and Alembic tracks their applications.
Alembic is especially useful for Python-centric projects seeking a seamless integration between code and schema changes. It is widely regarded as one of the best database schema migration tools for Python projects.
4) DBDeploy
DBDeploy is a straightforward command-line tool for managing database schema changes using plain text change scripts. While it may lack some advanced features, it's easy to set up and suitable for smaller projects and development teams looking for a simple solution.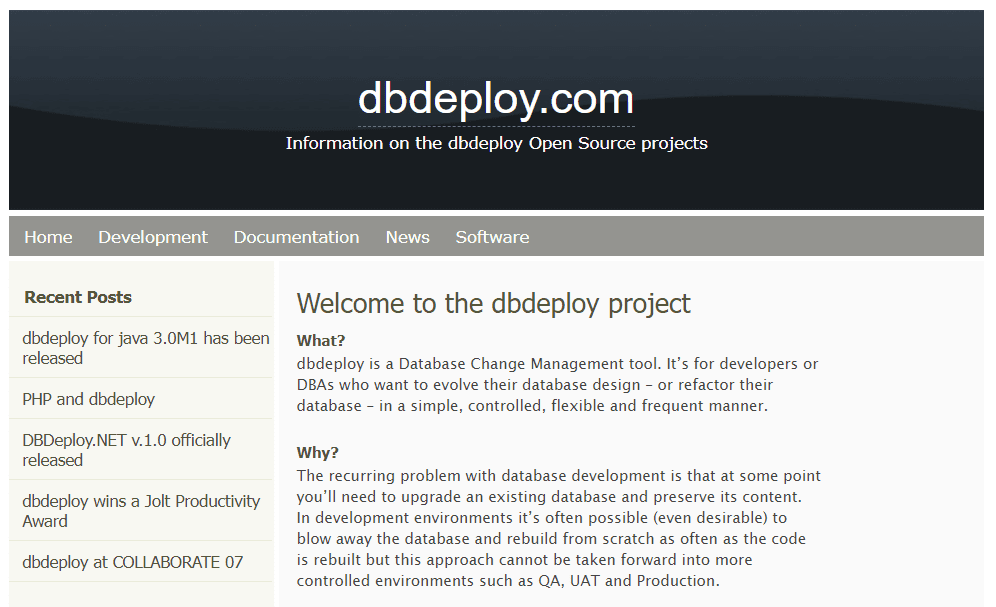 The simplicity of this tool can be highlighted by its ability to manage the deployment of changing scripts by merely using a simple table in the database and keeping track of the schema changes.
5) R2DBC
R2DBC is a unique tool in that it's not solely a migration tool but a reactive database interaction library. While it is primarily a database connectivity tool, it also supports schema migrations and is particularly well-suited for building modern, reactive applications that require non-blocking database operations.
6) Migrate
Migrate is a Python library that offers schema migration capabilities. Developers can define schema changes using Python code, providing a Pythonic way to manage database evolution. Migrate is a solid choice for Python projects, especially when using SQLAlchemy for database interactions.
This useful library has a SQLAlchemy integration that can automatically generate migration scripts.
7) Knex.js
Knex.js is a SQL query builder for Node.js that includes a schema migration component. Developers often use it in Node. Js-based projects, as it offers a programmatic way to define and apply database schema changes.
8) Redgate SQL Change Automation
This is a comprehensive database automation and migration tool designed for enterprise-level projects. It provides a wide range of features, including version control integration, test data generation, and automated deployment, making it suitable for complex, large-scale applications.
Given that this tool offers a host of useful features to developers, it is an extremely commonly utilized database schema migration tool.
9) Sqitch
Sqitch is an open-source database change management tool that tracks changes using plain SQL scripts. One of the best tools for managing database changes and dependencies employing a Merkle tree plan, it provides a simple yet powerful way to manage schema changes and is compatible with various database engines.
Another useful feature of Sqitch is its human-readable format, making it accessible to developers who prefer direct SQL control.
10) ActiveRecord Migrations
ActiveRecord Migrations is part of the Ruby on Rails framework. It offers a built-in mechanism for managing database schema changes within Rails applications. It's particularly convenient for Ruby on Rails developers, as it seamlessly integrates schema changes with the application's codebase, making it a preferred choice for efficient and secure database schema migration.
Criteria for Evaluating Schema Migration Tools
Choosing the right schema migration tool is crucial for any development project. Evaluating these tools involves considering various criteria to make an informed decision. Let's discuss the key factors for choosing the best database migration tool:
1) Ease of Use:
One of the primary criteria for evaluating schema migration tools is their ease of use. Tools should offer a user-friendly interface, clear documentation, and simple commands for executing migrations. A tool that is easy to learn and operate enhances developer productivity and reduces the chances of errors.
2) Compatibility:
Compatibility with your chosen database management system is critical. Ensure that the migration tool supports the specific DBMS you are using, whether it's relational, graph, or any other DB. Compatibility extends to the tool's ability to handle the version of the database system you are working with.
3) Version Control Integration:
Effective version control integration is another important criterion. Schema migration tools should seamlessly integrate with popular version control systems like Git. This integration allows developers to track changes, collaborate efficiently, and maintain a history of schema alterations.
4) Safety Measures:
The safety of your data during schema migrations is paramount. Evaluate tools based on their ability to perform safe migrations, handle data conversions, and provide options for rolling back changes in case of errors. Safety features like transactional migrations and the ability to perform dry runs are valuable.
5) Automated Testing:
Schema migration tools should offer automated testing capabilities. They should allow developers to create tests to validate migrations and ensure that changes do not introduce issues or break existing functionality. Automation reduces the risk of human error and enhances the reliability of migrations.
6) Performance:
The tool's performance during migrations can significantly impact development timelines. Evaluate tools for their efficiency in applying changes to large databases. Consider factors like migration speed, resource consumption, and optimization features.
7) Community and Support:
A thriving community and access to support resources are beneficial when issues arise. Check if the tool has an active user community, forums, and documentation. Premium support options can be crucial for critical projects.
8) Customization:
You must consider the migration tool's ability to handle custom or complex migrations. It should allow developers to define custom SQL scripts, handle specific data transformations, and adapt to unique project requirements.
9) Security:
Security is a vital aspect of schema migration tools. They should offer authentication and authorization features to control who can perform migrations. Audit trails and logging capabilities are also essential for tracking changes and identifying unauthorized actions.
10) Cost and Licensing
Lastly, evaluate the cost and licensing model of the schema migration tool. Some tools are open source, while others may require a licensing fee. Consider your project's budget and licensing requirements when making a decision.
Keep in mind that the migration tool you select must be within the allocated budget for the peculiar project.
Conclusion
It doesn't matter how much you try to avoid it; there comes a stage when you have to migrate your data from one database to another. To avoid complexities and facilitate the developers, there are a handful of open-source migration tools available. In this blog, I have highlighted some of the top-rated database schema migration tools to help the readers.
At Ropstam Solutions, we have a dedicated team, expert in mobile app and website development. With more than 10 years of experience in the IT field, we have a reputation of delivering high-quality products to our clients. If you are interested in our services, contact us now.