Since WhatsApp is arguably the most widely used messaging platform, many ChatGPT users have been searching for ways to integrate this hugely popular tool with WhatsApp. Unfortunately, there is no way to integrate ChatGPT directly with the Meta-owned tool, but that doesn't mean you can't use ChatGPT on WhatsApp. This article underlines uncomplicated procedures that you can follow to bring the AI chatbot to WhatsApp.
How To Integrate ChatGPT With WhatsApp?
Since its official release, ChatGPT, an AI-powered chatbot, has set the internet on fire, attracting an unprecedented number of users. The conversational chatbot has the ability to respond to any input in an intelligent manner within a matter of a few seconds. Following the record-breaking popularity of this AI tool, OpenAI, the creator of ChatGPT, went one step ahead and released an even more advanced chatbot named GPT-4.
Even though, unlike its predecessor, GPT-4 is available only to paying customers, it boasts new features like responding to an image input, more creative replies, and an increased maximum length of acceptable queries. Now, the technology has taken another step forward and enabled integration with various types of apps such as Whatsapp, Twitter, Snapchat, etc. These chatbots may even become far better than a human.
Following are the some of the ways through which you can use ChatGPT for WhatsApp:
1) Shmooz AI
Shmooz AI is a popular AI assistant for WhatsApp users. This tool is powered by GPT-3 and responds to any text-based input using ChatGPT. This extension enables rapid responses from ChatGPT with minimal downtime. Keep in mind that users are allowed only 20 free-of-cost messages during the trial period, and after that, you will have to purchase the subscription.
Install ChatGPT Using Shmooz AI
Visit the official website of Shmooz AI through this link https://shmooz.ai/
Follow the instructions to connect your WhatsApp account.
Start conversing with the chatbot.
2) Jinni AI
Jinni AI is a mobile app that runs on GPT-3 language model – the same language processing model that ChatGPT used. Therefore, the responses generated by this AI tool are similar to ChatGPT. Like Shmooz AI, this extension also allows a limited number of free messages (10) before you have to buy the paid version.
Install ChatGPT Using Jinni AI
Open the browser on your mobile and visit https://www.askjinni.ai/
Click the launch button.
Link Jinni AI to your WhatsApp account.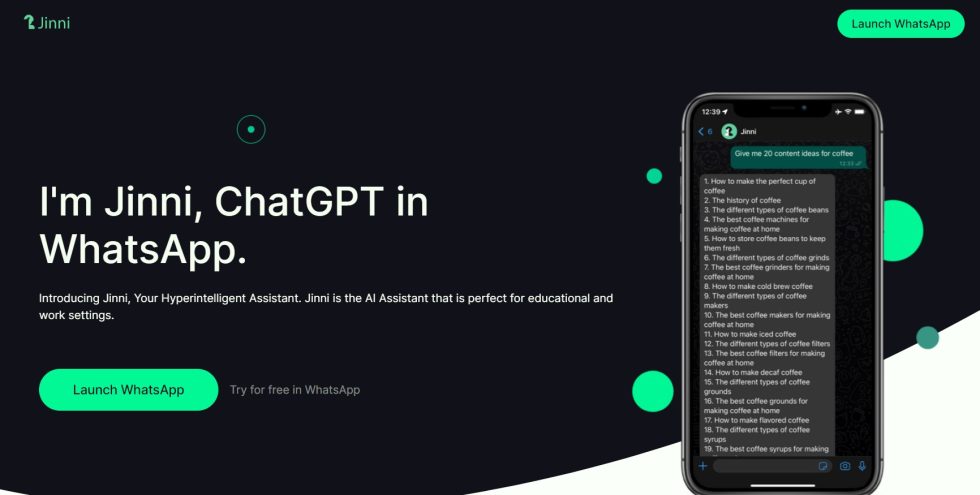 3) Send GPT Chrome Extension
Send GPT Chrome Extension is another popular way to connect WhatsApp to ChatGPT.
Install ChatGPT Using Send GPT Chrome Extension
Open chrome browser on your PC or laptop and go to the Chrome web store.
Select the "Send GPT with WhatsApp" extension and add it to the browser.
Launch this extension and select the "open WhatsApp" option to use ChatGPT in WhatsApp.
4) Python Script
A less common way to connect WhatsApp with ChatGPT is to utilize an open-source python script that can integrate both apps.
Install ChatGPT Using Python Script
Open the link https://github.com/danielgross/whatsapp-gpt.
Select the download option to access the "Download.zip" file.
Run the "Whatsapp–gpt-principal" file found in the folder in the terminal.
Run the "server.py" file in the terminal.
Type the following two commands in separate iterations, "is", and "python server.py".
You will be redirected to Open AI chat page where you need to verify that you are a human to establish the link
Open WhatsApp and you will find ChatGPT integrated to your account.
Conclusion
The popularity of ChatGPT is increasing with each passing day and a record number of users are currently accessing this AI chatbot for various tasks. This article highlighted four different ways through which this you can link ChatGPT to WhatsApp in order to further facilitate the users.