In today's day and age of technological advancements, website development is one of the most important fields to be pursued. There are millions of organizations worldwide that are seeking talented web developers as well as the latest platforms for crafting innovative sites.
When we talk about top website builders, there are tens of options available. However, WordPress and Showit are the two more famous ones. While WordPress is widely regarded as the most popular website builder, Showit is slowly gaining popularity among the developer community.
To help the readers decide which platform is more suitable, this article digs into the Showit vs. WordPress debate, evaluating their pros and cons and highlighting their differences.
WordPress vs Showit – Which One is Better?
WordPress and Showit are extensively utilized for building high-quality, interactive websites. Both have unique features which make them attractive to website builders. WordPress, however, is used in the creation of almost 43% of all sites on the internet owing to its extensive ecommerce capabilities, enhanced security measures, and significantly larger community support.
Overview of Showit
Showit is a popular drag-and-drop website builder that focuses primarily on providing ease of access to users. This tool enables beginners and non-tech-savvy individuals to create visually attractive websites. Without writing a single line of code, it enables you to develop a website by literally dragging and dropping items where you want to place them.
Initially created for photographers, Showit has rapidly gained popularity among bloggers, artists, entrepreneurs, owners of startups, etc. While you need to familiarize yourself with the layout and tools available, the learning curve of Showit is significantly less steep than other website creation platforms like WordPress.
It provides an intuitive drag-and-drop interface and various pre-designed templates to get your site up and running quickly. For starters, Showit makes it easy to customize the overall design and layout of your website. You can pick from dozens of premade templates and change colors, fonts, and other style elements with just a few clicks. It also includes stock photos and graphics to enhance visuals.
Showit Pros
It supports mobile customization
Can connect to any WordPress site
There are too many design options to choose from
Exceptional customer support
Easy-to-use templates
Showit Cons
Unable to integrate with Shopify
Takes a long time to build a website
Doesn't offer sophisticated content management
Showit also enables you to add and organize all your website content seamlessly. You can create pages, write blog posts, add navigation menus, embed videos, and more using simple editing tools. Everything stays organized in the page editor.
When it comes to ecommerce, Showit provides everything you need to start selling online. You can create shop pages, manage inventory, process orders, and accept payments. Powerful blogging features are also included.
Showit makes launching a website fast and simple. Built-in SEO helps improve site visibility. You can easily monitor traffic and user engagement with integrated analytics.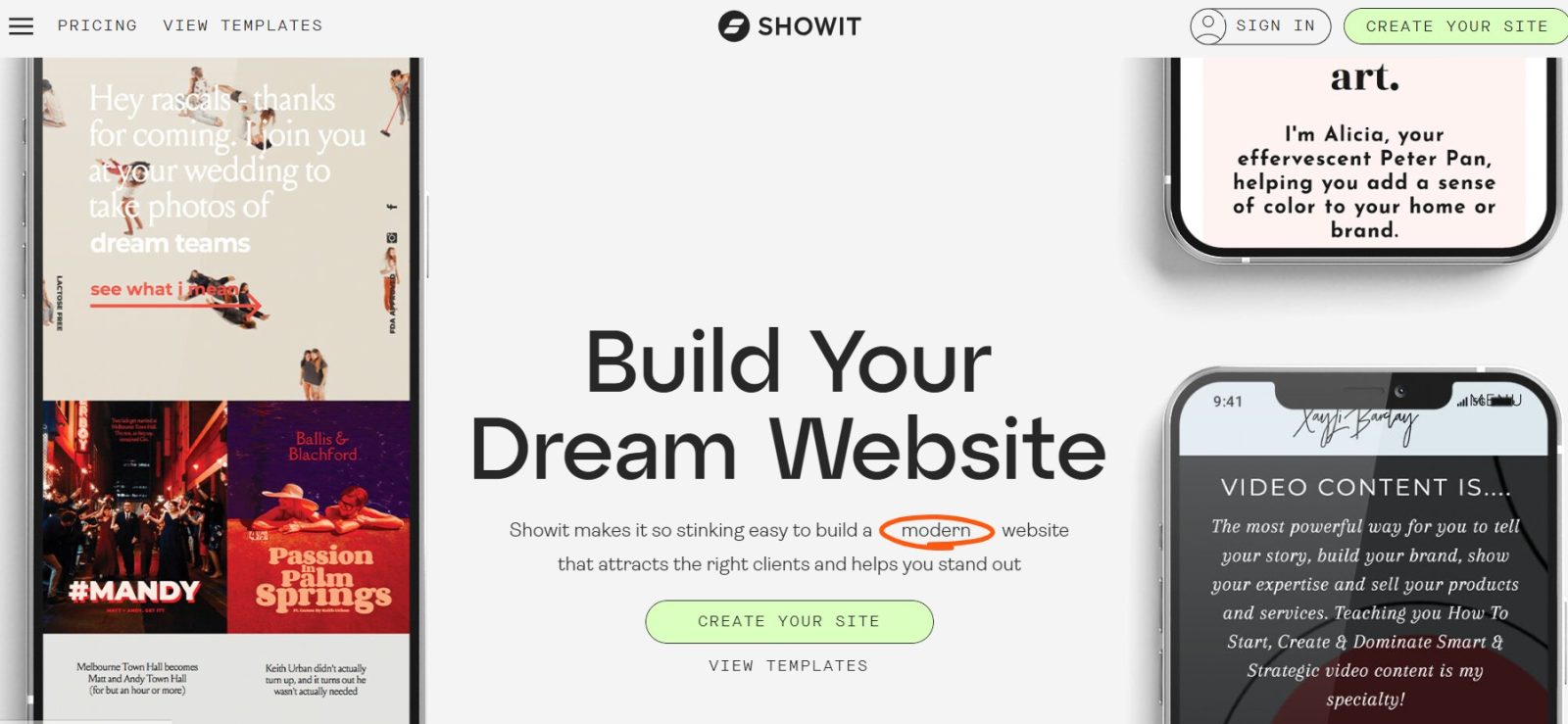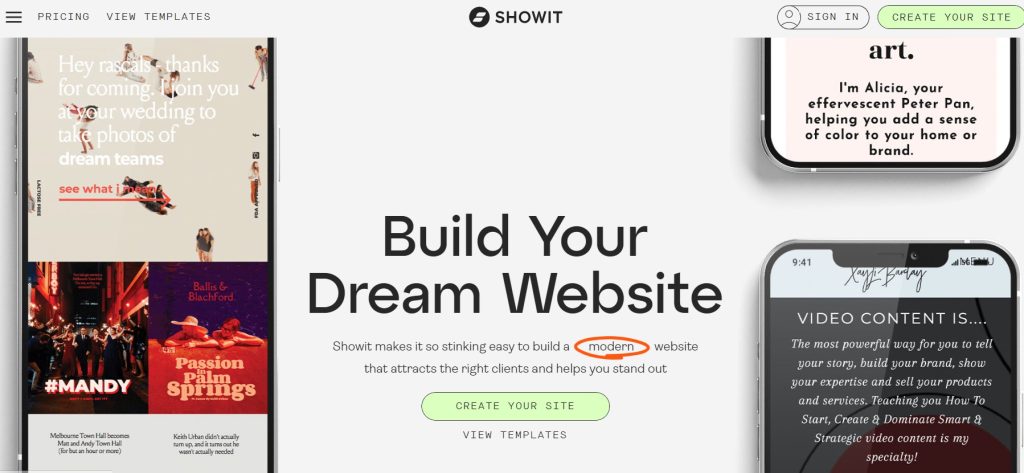 For those who need advanced customization, Showit offers code editing access for fine-tuning the design and adding custom functionality. You can also integrate email marketing, social media, and other services.
Another key benefit of using Showit is that it enables responsiveness. With responsive design, your Showit site looks great on all devices. Real-time previews let you see changes as you build. When ready, you can publish your website with just one click.
Overview of WordPress
First launched in 2003, WordPress has grown to become the most widely used website platform, now powering over 43% of all sites on the internet. Its open-source nature, extensibility, and vast ecosystem make WordPress a versatile tool suitable for blogs, business sites, ecommerce stores, and more.
At its core, WordPress is built around a content management system (CMS) that organizes your website into pages, posts, menus, themes, and a lot of useful plugins. This CMS makes it easy to manage and update site content without technical skills. Skilled developers admire wordpress a lot due to its ease of development. Making useful business plugins and themes is one of the best ways for wordpress developers to show case their skills.
Unlike Showit, WordPress requires a basic understanding of programming languages like HTML, CSS, PHP, and JavaScript, especially for advanced theme customization. Knowing these programming languages will empower you to customize WordPress themes, edit plugins, and even create your own plugins. In case you find any difficulty or hard time working on them, there is a lot of useful information available on the internet regarding developing this CMS.
WordPress Pros
Developing WordPress sites is budget-friendly
Relatively easy-to-use
Offers a great level of flexibility
Boasts a strong ecosystem
WordPress Cons
Prone to cyber attacks
Doesn't perform well in some cases
Lack of innovation
Maintaining WordPress sites is a difficult task
One of WordPress' biggest advantages is its sheer volume of customization options. Themes control the overall design and front-end appearance of your site. There are thousands of free and paid themes available, enabling extensive customization of layouts, styles, colors, and functionality. Popular multipurpose themes like Astra allow building any kind of site.
What sets WordPress apart is its plugin ecosystem. Plugins are software extensions that add all sorts of features and functionality beyond core WordPress. There are over 55,000 plugins, both free and paid, for needs like ecommerce, security, marketing, SEO, social media integration, galleries, forms, and more.
WordPress shines when it comes to ecommerce and blogging. Powerful ecommerce plugins like WooCommerce and easy integrations with payment gateways make it easy to sell online. Built-in blogging tools plus SEO and content marketing plugins empower feature-rich blogs and content sites.


WordPress scales your business as it grows. You can upgrade hosting plans or servers. Many hosting providers offer managed WordPress plans with automatic scaling. The open-source community provides support, tutorials, and documentation for fixing any error or any issue.
WordPress also puts a lot of emphasis on the security of sites. With a little work customizing themes, WordPress sites can attain high accessibility standards. Developing with web accessibility principles in mind from the start ensures your site is usable by all.
Showit vs. WordPress: Factor-wise Comparison
When it comes to website creation, both Showit and WordPress offer unique sets of features to facilitate the users. Now, let's expand the Showit vs. WordPress debate by illustrating the differences between both in order to help the readers make an informed decision.
1) Ease of Use
Showit is more beginner-friendly and easier to use right away. Its intuitive drag-and-drop editor and templates help quickly build sites without technical skills. WordPress has a steeper learning curve and requires more effort to customize, but it provides much more control over site design and function.
This is a crucial factor in the Showit vs. WordPress debate as many not tech-savvy individuals prefer Showit because of its ease of usage.
2) Design and Customization
Showit makes it relatively easy to customize the design with different templates, themes, colors, fonts, and the ability to add custom CSS. However, WordPress offers a level of customization that Showit cannot match, thanks to its expansive theming ecosystem with thousands of themes available.
Additionally, WordPress plugins allow for modifying and enhancing site design and layout in almost endless ways. This illustrates the fact that while customization is significantly easier in Showit, WordPress offers a much deeper and more sophisticated level of theme customization and control over design. One must consider this factor while evaluating the Showit vs. WordPress debate.
3) Content and Functionality
It is pertinent to mention that both Showit and WordPress make it straightforward to create and organize all your website content, including pages, blog posts, menus, videos, images, and more. However, WordPress provides superior content management capabilities along with plugins that can expand site functionality far beyond what Showit can offer out of the box.
While the ease of use of Showit is an attractive feature, it also means that this website builder cannot provide sophisticated content management capabilities and other facilities that WordPress offers. While answering the critical Showit vs. WordPress question, it's important to comprehend this point.
4) Ecommerce Capabilities
Showit provides integrated ecommerce features to build and manage online stores, including hosting, security, and support. With WordPress, creating online stores takes more work, but utilizing ecommerce plugins like WooCommerce results in much greater control, customization, and features.
In short, developers who need greater control and customizable features for ecommerce stores prefer WordPress.
5) Content Marketing
For blogging and content-focused sites, WordPress is far more powerful and flexible than Showit. The extensive WordPress tools for content creation, built-in SEO, and ecosystem of content marketing plugins make it the choice for serious blogs.
Hence, it can be said that if a simple content creation site is required, then you should opt for Showit. However, the need for a more flexible blogging site necessitates leveraging the power of WordPress.
6) SEO Optimization
Showit covers technical SEO like site speed, mobile optimization, and accessibility right out of the box. But WordPress allows for more fine-grained control over critical elements like URL structure, metadata, XML sitemaps, and more using its range of SEO plugins.
7) Performance and Speed
Showit builds in many performance optimizations automatically, making it easy to achieve fast load times. With WordPress, site speed is highly dependent on hosting setup, themes, plugins, images, caching, and configuration. With some diligence, WordPress sites can meet excellent speed benchmarks, but a lot of effort and resources are needed.
8) Security
Showit provides strong security provisions such as firewalls, backups, and mandatory updates. WordPress can match this security when following best practices – using trusted plugins, unique, strong passwords, limiting user roles, and working with managed WordPress hosting providers.
9) Scalability and Growth
Showit can effectively handle a steady volume of low to moderate traffic. But at very high traffic loads, costs on Showit can grow considerably. The open-source nature of WordPress allows smooth growth from very small to extremely large-scale enterprise sites.
This means that for creating high-traffic websites, users prefer WordPress since this platform is relatively cheaper.
10) Support and Resources
The massive WordPress open-source community provides abundant documentation, tutorials, forums, and discussion boards for help and shared knowledge. On the other hand, Showit offers email ticketing and an online knowledge base for support. In the Showit vs. WordPress comparison, the significantly larger open-source community of WordPress is a critical deciding factor.
11) Integration and APIs
Showit enables the integration of popular third-party tools like email marketing, analytics, and social media. On the end of the spectrum, WordPress provides nearly endless integration options via its wealth of plugins, allowing the incorporation of external services via APIs. WordPress takes precedence here since it has an extensive library of third-party tools.
12) Multilingual Support 
Both Showit and WordPress have the ability to create multilingual websites. However, WordPress offers significantly more translation tools, plugins, and languages supported out of the box.
13) Maintenance
Showit takes care of hosting, backups, updates, and other production maintenance tasks automatically. With WordPress, site owners can either manage production independently or use specialized managed WordPress hosting providers.
14) Expenses
Showit has a lower entry price but scales up in cost substantially as site traffic grows. Thanks to its open-source model, WordPress can operate at a very low cost with self-managed hosting and care. It is pertinent to mention, however, that the price of a WordPress subscription can increase based on the plugins and themes utilized.  Similarly, while it is cheaper to initially purchase Showit, scalability, and third-party plugin integration may lead to additional costs.
Hence, this aspect cannot singularly guide the decision-making process in the Showit vs. WordPress comparison. The cost of each website hinges on a range of factors, encompassing overall features integration of third-party libraries and plugins, which collectively contribute to the final expenses.
15) User Base and Market Share
WordPress utterly dominates the market with over 43% share of all websites globally. Showit has a relatively small user base but is growing over time. The enormous WordPress community facilitates immense knowledge sharing.
This point illustrates the dominance of WordPress in the overall website development domain.
Conclusion
Website development is a trending topic in the software development domain. There are a host of varying website development platforms out there, but arguably, WordPress and Showit are two of the most popular ones. This article is a comprehensive guide to the Showit vs. WordPress comparison, underscoring the features and factor-wise comparison to help the readers make an informed decision in selecting the ideal website creation platform.